Team Name : Reapers with Snipers
SLT e-Sports Championship 2015
Story of Reapers with Snipers
Reapers With Snipers is Ranked #1 Halo 3 Team in Sri Lanka. From 2011 to 2014 this team have been winning Sri Lankan Cyber Games, the biggest Sri Lankan eSports event.
We caught up with Sharan Velauthan aka HoboWithSkillzz of Team Reapers With Snipers to get some insights about their team and the recent victory.
How was Reapers With Snipers created?
Well team name Reapers With Snipers. It's a name me and my best friend randomly came out with somewhere in 2010.
When was this team formed?
I met Shahed (gamertag same name), Shezzard (synaerisis) in the same year. We all loved halo. Loved the team work it took to win games. It's all about map positioning, team work, power weapon control to win games. It's not just run and gun. So we formed the team under the name I gave.
Tell us about team achievements
Myself (HoboWithSkillzz), Shahed, Shezzard (synaerisis) and Rahal (mirage master) won 2011 in dominating fashion. After that we went into 2012 with mirage master as a reserve and playing with a friend called Irusha (iruz chaotic) and went against the supposedly godly halo team bullet proof pigs. That year also we were able to become the Champions. 2013 came around and it was halo 4 after playing halo 3 for 2011 and 2012. This year our opponent was the current PnX gaming halo squad. Once again we were able to Beat them without losing a game, and became the 2013 National Champions.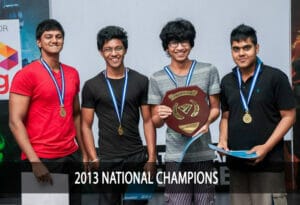 Tell us about 2014 SLCG 
In 2014 SLCG also we were able to become the national champions without losing a single match during finals.by SLCG 2014 we were known for trash talking and getting into our opponents head, But we are also friends in and out of the game with every other team. We know our team's strengths and weaknesses very well that helped us massively to stay undefeated for 4 consecutive years. 
Any final thoughts you would like to share?
E-Sports is still growing in Sri Lanka and as a team we would like to see halo growing and more teams coming into Halo community.